Engine Installation
Many measurements were made and calculated. The engine mounts were centered in their travel range.
Engine bed logs ware made by ripping and gluing up 6" wide pieces of 3/4 " fir plywood. These were epoxied together and stacked 4 pieces wide to match the width requirements of the engine mounts. The bed logs were fitted around the frame members and the center aluminum angel bracket Ls were trimmed off.
With the Sea Maxx engine and PCM transmission the engine bed logs are set level. Everything was epoxied in place with the bolts providing clamping pressure
The engine mounts are through bolted both vertically and horizontally. Extra horizontal bolts bracketing the vertical bolts are also used to prevent the plywood lams from splitting apart. 6" 3/8" Stainless steel bolts with fender washers on each side, lock washers and nuts were used for mounting. The fender washers are relatively thick and nicely spread out the compressive force.
Trailer wheels were removed and 2x6 blocks ware placed under the axles at the spring mounting points. This lowered the trailer and gave more maneuvering room for the engine hoist. The fender was also removed. With the Northern Tools 2 Ton hoist that I have the boom had to be all the way extended and the hoist jockeyed around the wheel bearing to line the motor up. We only had to pull it 3/8" additionally over.
Hoisting in the engine had us worried. The floor was swept. Extra materials and tools were removed. The crew was told what to do and knew where to run (and had a clear path) if the thing let go. No one was to try and stop the engine if it started to fall. The hoist rolls very poorly with the engine lifted. It took 4 people to push it into place and a crow bar was used for fine motion as well as getting over the concrete floor expansion joints. We moved it up to the boat with the boom lowered, only raising it as we had to clear the side of the boat.
In the end, it went smoothly. Everything lined up and the shaft was within <1/4" of mating in all directions.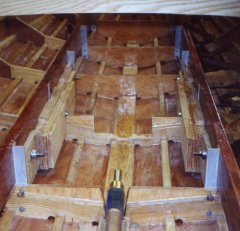 Engine beds in place. Note notches for motor mounts
Prop shaft and stuffing box in foreground
Engine on hoist - starting to lift
Engine going up...
Almost up over the edge...