Our bountiful harvest of ripe hot peppers continues. Some of the other folks in the Facebook Cured Meats : Charcuterie group have been making pepper paste to use for sausage making. This sounds like a good idea as with pepper paste vs pepper powders, you can get a better bind on the meat in the sausage. Plus, some claim the flavor is better.
As with our hot sauce, we are using a mix of Arapaho (large cayenne), Aji Rico, and Jalapeno. I also have a few unknown "volunteer" peppers. All are hot. The Arapaho are the hottest of these. We started with about 3 gallons of fresh and frozen peppers.
The peppers are seeded and then passed through the meat grinder. We use the 3mm / 1/8″ plate. This saves a lot of time compared to chopping, stick blending and then running through a sieve. Teal also prefers this method for ease of clean-up. It does however help to pay attention to how full the bowl is getting when posing for the photos…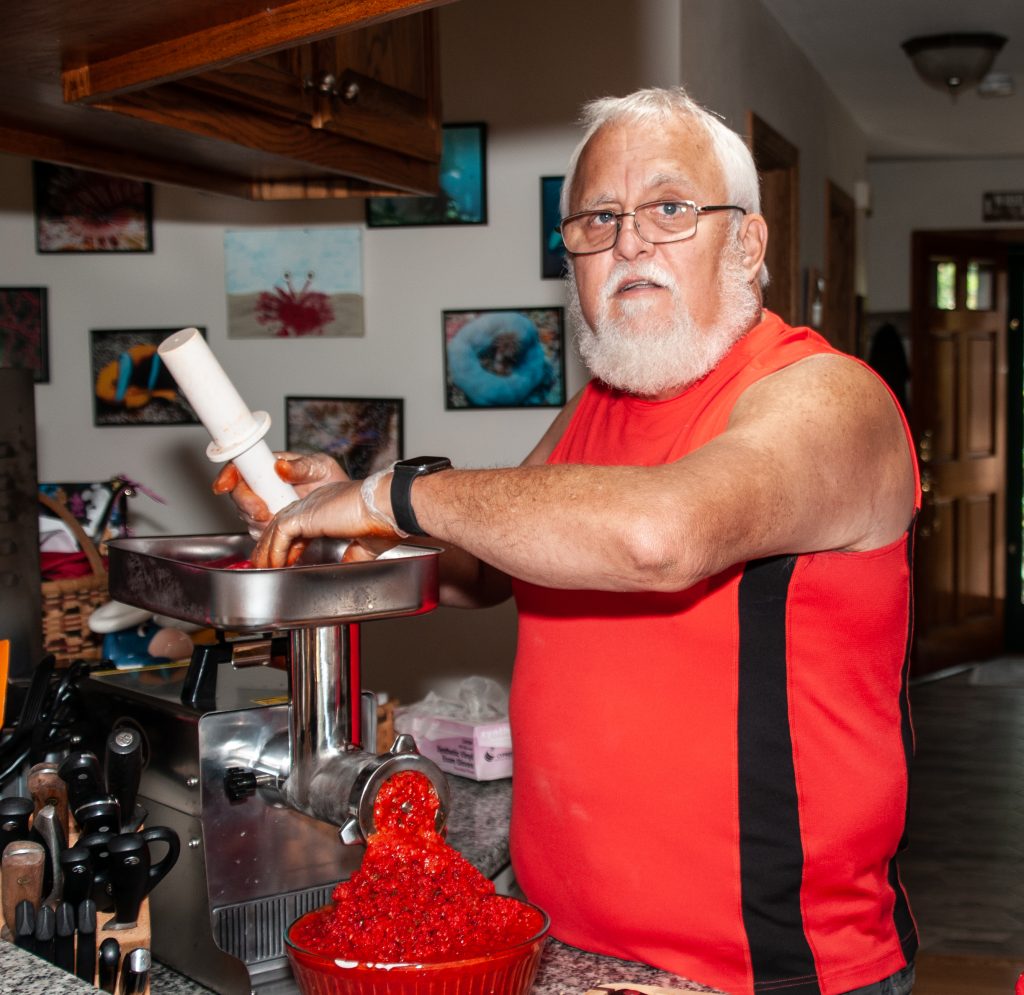 We ended up with about 14-15 cups of pepper mash. To this we added 3.5 tsp kosher salt and 1 tsp citric acid. The mixture was then boiled for about 15 min to thicken it a bit. Then it was placed in the jars. We used 1/2 pint jars so that we don't have a lot open in the fridge at any given time. . After cooking, the pH read 4.05 but, this was in the pan when still hot and outside of the rated range of my meter. However, once cooled it still read 4.25, so this should be shelf stable. We did, process in a pressure cooker / canner at 10 PSI for 15 min as recommended by the various University Extension websites for low acid fruits.
Final count was just shy of 14 jars of pepper paste. It is delicious with cheese and crackers. Overall the pepper blend is pleasantly hot once cooked. I am anxious to try it when making dry cured sausages such as Sopressatta and Pepperoni.