The plans called for using a lot of salvaged components from other bikes.  I don't have any frames to cut apart and wanted to use modern components for the most part.
The first pieces built up were the wheels. This was my first experience building bike wheels. These are built from BMX components and I even found 100psi capable tires for the nominal 20″ (604mm) rims.  Until starting this, I did not know there are 6 different nominal 20″ sizing systems  which are incompatible!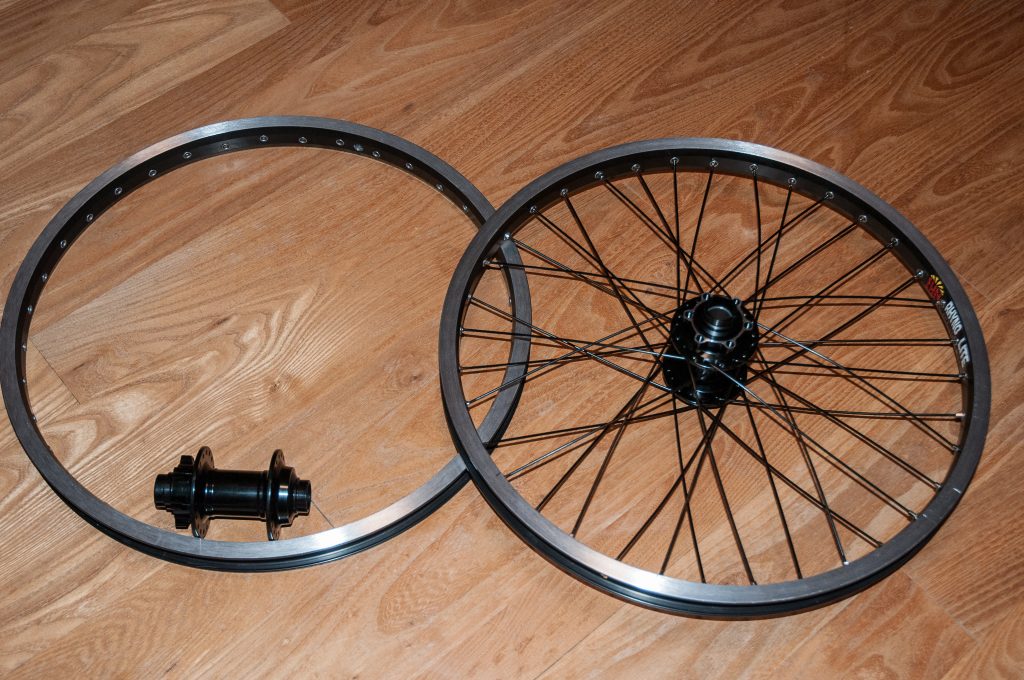 I needed 3 headstock bearings, one for each front wheel and one for the the underseat handlebars. For these I am using FSA "The Pig" . The bearings must be pressed into the headstock tube. Normally the tube is reamed with special reamer which I don't have. Instead, I faced and then bored the shells on the lathe. These are 2.5″ long for the wheels. The bearing seats will then be press fit in place. 
The arms that go from the spine of the frame to the front wheels need to be coped to fit these shells.  Rather than cutting each to length and then coping the end I cut the pieces to double length and then used a 1.5″ hole saw in the middle. The tube is 1.5″ square so the hole saw nearly cuts through the sides.  This makes a nice clean arc faster and more accurately than trying to saw and grind per the plans.  You do need to clamp securely and do this in the drill press or mill. Use the lowest speed available and lots of lubricant.  The Bridgeport works nicely for this and I was using mist cooling as well to avoid damaging the hole saw .
You can see the nice fit-up of the coped arm ends against the bearing tubes.
The front axle shafts and steerer tube are also coped and shown at the approx 15 degree angle that is required. Steerer tube is 1-1/8″.
Crank bottom bracket is adjustable. The clamp bars were made the same way out of 3/16″ x1.5″ steel flat stock. The shell is a standard 74mm ISO threaded bottom shell from Framebuilder supply.  Here you can see the bottom bracket shell fit up and ready for welding. Note there is a shim on one side to allow for the paint thickness later. 3/8″ bolts secure it to the spine tube.
.Parts list for the front wheels. These were purchased from Niagara Cycle.