For me, life is not complete without projects. I need to build things or at least rebuild them. Merely using things, does not satisfy me for long. I have to "make it better".  So this has lead to the current project, which is  a tadpole style recumbent trike (human powered – the VTX is not being harmed in the process).
The trike is base on the Atomic Zombie Warrior: http://www.atomiczombie.com/Warrior%20Recumbent%20Tadpole%20Racing%20Trike.aspx    > It will of course have multiple modifications along the way to improve the design and make use of the machine tools I have rather than getting by with hand tools. Plus I am keen to add fixturing for stability and accuracy rather than hand holding or using props like buckets.
This is largely a welding project. So the patio we added last year outside of my shop is getting some use.   Many of the parts were purchased from someone who was parting out a cracked Trek carbon fiber mountain bike.
You start by building the rear fork and "spine" of the trike. The tubing is 1.5″ across with 1/16″ wall thickness.   The plans state the heights of the pieces, but omit the angles. The angles are cut and filed "to fit".
The rear fork is the first assembly. The tubes are cut and then welded up. Tube ends are capped off with welded on pieces. The drop outs are added next. 
Her is a close up of the rear drop outs. You can still see the scribe marks for where I drilled and milled the slots.
This is the first test with the donor cycle wheel. It is nicely centered.
Here I am starting to weld up the spine of the trike. The blocks are ordinary melamine coated 1/2 " MDF scraps that have been squared and notched for the tubing at the correct heights. The reference for this setup is the front edge of the board resting on the welding table.
Now with the spine welded up, it is time to fit the rear fork. So this means another trip back into the shop.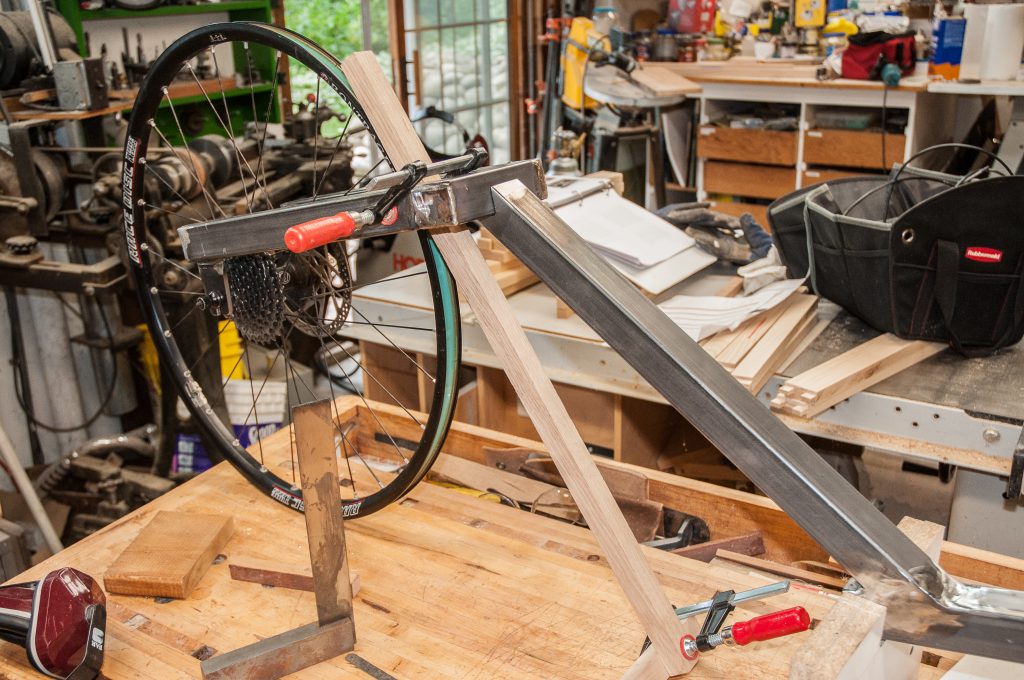 The front wheels are made from 20″ BMX components with a 20mm center shaft hub to handle the force of only being supported at one end. This is the first time I have laced a bike wheel. One wheel is assembled and ready for truing and the other is still awaiting assembly. However, the hub must be used for fitting the axles which will be turned on the lathe.