The legs are the first set of components to make. The rail tenons will fit into the mortises on the legs. There are a lot of mortises to cut. 9 per leg, 4 legs per dresser and 3 dressers make for 84 mortises of various sizes. This should be a perfect item for the CNC router.
The legs are cut from 8/4 quarter sawn oak.  I have a number of planks remaining from Wisconsin WoodWorker's Guild LogFests where we milled and auctioned off many logs felled by our group or donated. This was an "urban wood" project. These have been air drying for a number of years. The Red Oak is perfect, the White Oak has more loss as it was not only more irregular to start with but is also prone to internal checking when air drying at home.
The pieces are cut to rough length first, then planed and jointed. Here I am jointing a slab on my 125 year old Colladay 16″ jointer.
The legs are then sawn to width and then run through the drum sander. This not only saves time later but also makes them uniformly square.  We used 80,120, and then 200 grit when sanding. Teal handles the outfeed. and I must be careful at the start and end of a set of sides that I don't create an "I love Lucy" moment for her with pieces coming out faster than she can remove and stack  If this is not familiar see the "chocolates episode" : https://www.youtube.com/watch?v=8NPzLBSBzPI).
They are next cut to final length. This should be done after sanding to minimize snipe in the finished pieces.  The drum sander is a great tool for large furniture projects and especially where you want to be able to cut repetitive joinery such as tenons or dovetails as you end up with stock of very uniform thickness. Better yet for projects where you pre-finish before assembly as I have done with the beds and other projects.
Now that all of the pieces are of uniform width and length it is time to start routing the mortises. The dressers are symmetrical front to back. This means that I can cut the legs as pairs (front right – rear left, front left- rear right) as sets minimizing the number of cuts to lay out and chances for error.
The only problem at this point is I cannot get VCarvePro to properly import the legs to lay out the mortises. I had to redraw them rather than import the legs or faces from SketchUp.
At this point I have all of the mortises cut on one of the sides of each leg (2 layouts). Next will be the second side of each leg.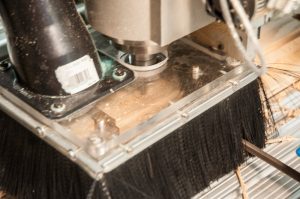 Routing and the leg clamped up on the CNC router.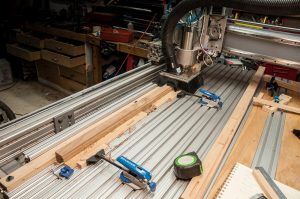 Mortised legs.

The pile of other exterior components.