Pork Tenderloin Wellington
As we dug further into the stash of delicious meat from the half pig from Sidie Hollow Farms, looking for some more meat to cure (future Capicola), I came across the tenderloin. I set it aside for a couple of days while pondering what to do with it. Pork tenderloin is not something we make often and when we do, it is something special.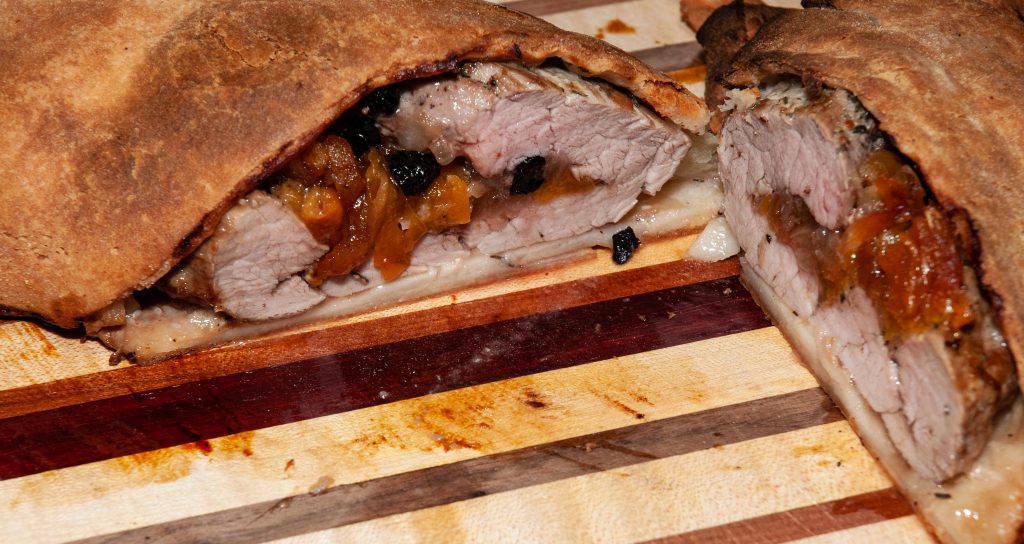 So after searching around a bit we settled on doing it Wellington style. We also had a left over frozen gluten free puff pastry crust from Christmas & New Years. The tenderloin and the crust were thawed.
The fun part is deciding on the stuffing and spices. We wanted a fruity filling and Teal is averse to strong spices so it was done simply. We decided on dried fruits so the crust would not get soggy and we still had dried fruits left over from making fruitcake and for snacks for the grandkids
Stuffing
1 shallot finely diced and sauteed to wilt / translucent
1 handful finely sliced /slivered dried apricots
2-3 TB dried blueberries
2-3TB dried pineapple chopped
Add the fruit to the wilted shallots along with 2 TB frozen juice concentrate (your choice – I used a "summer blend" with apple, pear, guava, orange). Simmer for another 3-5 minutes to soften the fruit . A couple of TB of sherry or brandy would be nice as well but Teal vetoed those ideas (to my dismay).
Tenderloin
Brown the tenderloin in a hot cast iron or hard anodized aluminum skillet with 1-2 TB of butter or olive oil. You want it really hot, just shy of smoking and brown on 4 sides – 5 min max total. Hand an extra glass of wine to whoever gets to clean up all of the splatters. Do NOT use a no stick pan as this type of maneuver is one that dramatically shortens the life of the coating (and any nearby birds).
Rub the outside of the now-browned tenderloin with a thin coat of dijon mustard. I do this lightly as I can add more later but do not want to offend Teal with a robust mustard flavor.
Slice the tenderloin lengthwise , almost all of the way through and then do the same to each of the halves. Place the fruit and shallot mix in the openings of the slicing and then fold the tenderloin back up and place with the open side down diagonally on the puff pastry. Now comes the hard part – wrapping the pastry around the tenderloin and placing open side down on the sheet pan. The puff pastry does not like to be roughly handled or it cracks apart. Stop pfutzing with it and place it in the pre-heated 375- 400F oven. Bake for 25-40 min until the internal temp is 140F. I will lower the oven temp next time for this crust to 375.
Rest for 5-10 min then slice and serve.
It was delicious.