When doing my research on foods, especially fermented or cured,  I have learned  to look first for the "tasting" post or video then decide whether to look at the preparation posting or video. If there is no tasting video – just assume it did not turn out.   Probably the best that I have seen are Gavin Weber's cheese making videos. When tasting he tells it like it is – not all turn out and some are interesting surprises.
This experiment started back on Dec 15, 2018 and my first post on it was: Making Lonzino – Dried cured pork loin    (Yes, I waited to see if it was a slimy mess or not before the first posting).
Over the intervening weeks ,I took a few photos and weighed the pieces to track the progress.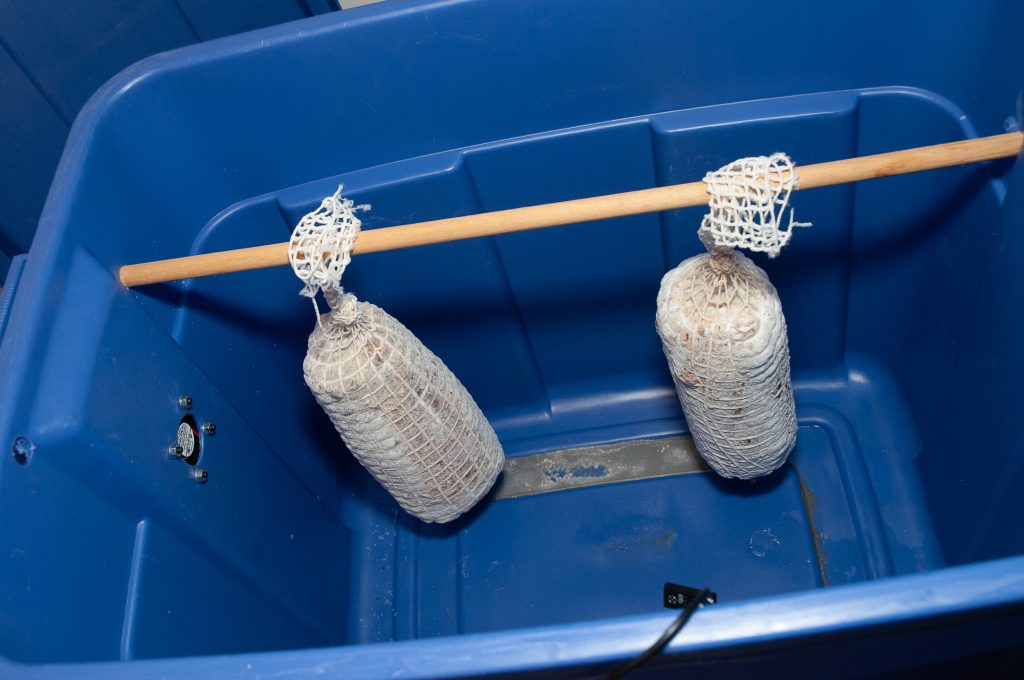 Starting at 1100 grams each the target for 30% weight loss was then 770 g. Today the spicy one was down to 789g  and I figured it was ready to test. Besides I had to make room for a Bresaola that was going in. T
he last couple of weeks have not been optimum for drying as I had to move the chamber to the garage as I was doing some wood project finishing in the basement and did not want the fumes to impair the flavor. So I have been shuttling it between garage and basement depending on the temperatures (it reached -30F here) and extraneous odors (garden tractor which I use for plowing stinks on start up). This means the ambient temp has been anywhere form 28-58F depending on where the box was – not ideal.   Plus I have been adding more meat and it may be tasing the little fan a bit with the added moisture.
Now is the time for the unveiling…
This is definitely a success. The flavor is just what I was looking for with the pork, fennel and pepper.  It is a nice subtle blend. The outer layer of collagen and mold is discarded before eating (although it is edible).   The texture is nice, but I want to dry it a bit more to get it a bit firmer. At this point is just a bit softer than prosciutto. I will probably trim the fat evenly next time. The meat is a bit softer near the fat layer.  The outer layer of meat is a bit darker than the center which could be a bit of case hardening (outside drying too fast) but the texture really does not vary much.
Weights   in grams
| | | | |
| --- | --- | --- | --- |
| Date | Plain pepper | Spicy |  Box RH |
| 12/30/18 | 1101 | 1104 |  75-85% |
| 01/05/19 | 1052 | 1056 |  75-78% |
| 01/12/19 | 972 | 965 | 75-78% |
| 01/19/19 | 906 | 914 |  75-78% |
| 01/26/19 | 856 | 868 |  75-78% |
| 02/03/19 | 828 | 840 |  75-88% |
| 02/10/19 | 800 | 814 |  75-88% |
| 02/18/19 |  749 | 789 |  80-85% |
| 03/10/19 |  691 | | 75-78% |
Stay tuned . More projects underway. Dry cured ham – similar to Speck, and Bresaola which just went into the box today after 2 weeks in the fridge.
I also brought some in to work and ran samples past a few of my friends.   Overall the rating was excellent. Probably 60% would like it a bit drier / firmer but all want more.  So,  the other piece is going to dry to 35-40% weight loss and I will run another test.  Overall, I am very encouraged by the consensus on the results!
Update 3/17/19   The second (plain pepper) piece was dried to 38% weight loss and the group appraisal was that it has better texture.  However the fennel / spicy flavoring has the taste edge.
You really should not just take my first time experience as gospel. I did a lot of research prior to attempting this and I hope you do as well . Some of my favorite references are:
Charcuterie by Michael Ruhlman and Brian Polcyn
Olympia Provisions: Cured Meats and Tales from an American Charcuterie by Elias Cairo, Meredith Erickson
Salumi by Michael Ruhlman and Brian Polcyn
Plus a variety of youtube videos. Ignore any that post only a "making " video but no "tasting" video.
My favorite youtube video is "making capicola"   she reminds me of my grandmother and covers the wrapping in collagen sheets before hanging.