Beef Brisket – sous vide and smoke
We had a craving for slow cooked smoked  brisket.  I have tried a couple of times in the past with corned beef but that was too salty (even after soaking over night in a pot of water). We wanted this for Saturday night dinner so I was running short on cooking time (most recommend 13-16 hours at 225-250) and some sort of mix of smoker and wrapping or steaming.  Final target temp 195-203 but testing for tenderness to see when it is truly done
With ideas in mind and research in hand, the experiment begins…
Teal picked up a whole "packer cut" brisket, 14lbs at Costco. . She liberally applied one of my rubs to it and set it aside in the "big fridge"  (that is the garage in the winter). This set  for 8 hours. 24-48 hrs would probably be better but were running short on time.
The whole brisket was then cut lengthwise and the halves vacuum bagged. The reason for the cut was that my biggest bags are only 11″ wide rolls and it would not fit otherwise. More surface area also means more smoke and spice flavor.
The bagged meat was then put in the canning kettle with the Anova Cooker
set for 170. This ran overnight for 11 hours. Next time, I will need to cover the kettle as the water level dropped almost 2″ over night . When the meat was unbagged, there was about 5 cups of juice and a cup of rendered fat. Juice was saved for later.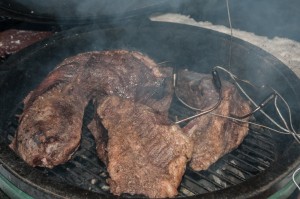 The Big Green Egg (BGE) was started , the Heatermeter hooked up and set for 240. The meat was on at 7AM. Here is a shot of the meat as it first goes on the smoker. The internal temp at this point is about 155-160 degrees.
Cherry chunks are providing the smoke flavor.
The reason that there are 3 pieces i on one half I separated the flat and point / deckle muscles. The other half was left intact as it was not quite so thick at the point end.
7 hours in the smoker and the temps were approaching the 190 range and it was feeling tender and I was afraid of it drying out if left on longer. So it was pulled off and put in a large covered pan in the oven with the juice that was saved from the sous vide step. Set for 200 degrees for 3 more hours.
Temperature curves are bit odd, with the big piece seen in the top left rising and then falling. You can see also at the beginning I let the BGE get too hot while tending to other things before putting the meat on.
We had most of the kids and their spouses (Elyse, Paul, David and Kelly)  over for dinner and the unanimous decision was that this was definitely a keeper recipe. Tasty, juicy meat. Sides were twice baked stacked potatoes,  green beans with garlic, sesame and lemon as well as Teal's buttermilk biscuits. This photo shows just part of the meat. Note the nice smoke ring seen on the left.
Definitely not a high speed recipe (who would rush smoked meat anyway?), but one that is handily done in just over one day.